Welcome to the Warren County Wildcats Wrestling online home.
During the season, this is the place to visit for up to the minute results, team rosters (grades K-12), and team schedules. Be sure to visit often for all the latest Wildcat information throughout the year. In addition, check out our famous Hall of Fame, Team History, and our ever-growing Team Photo Album.
Upcoming events
November

- All Levels Varsity through Middle School Underway sign ups continue at all levels next week

- Nov 17 - Youth Wrestling Begins (grades K-8)

- Nov 19 - Meet the team Night (Manditory Parent Meeting)

- Nov 22 - Varsity Wrestle off - 10am at WCHS
- Nov 24 - Middle School Tri (away)

- Dec 2 - Benefit Match vs Handley (home)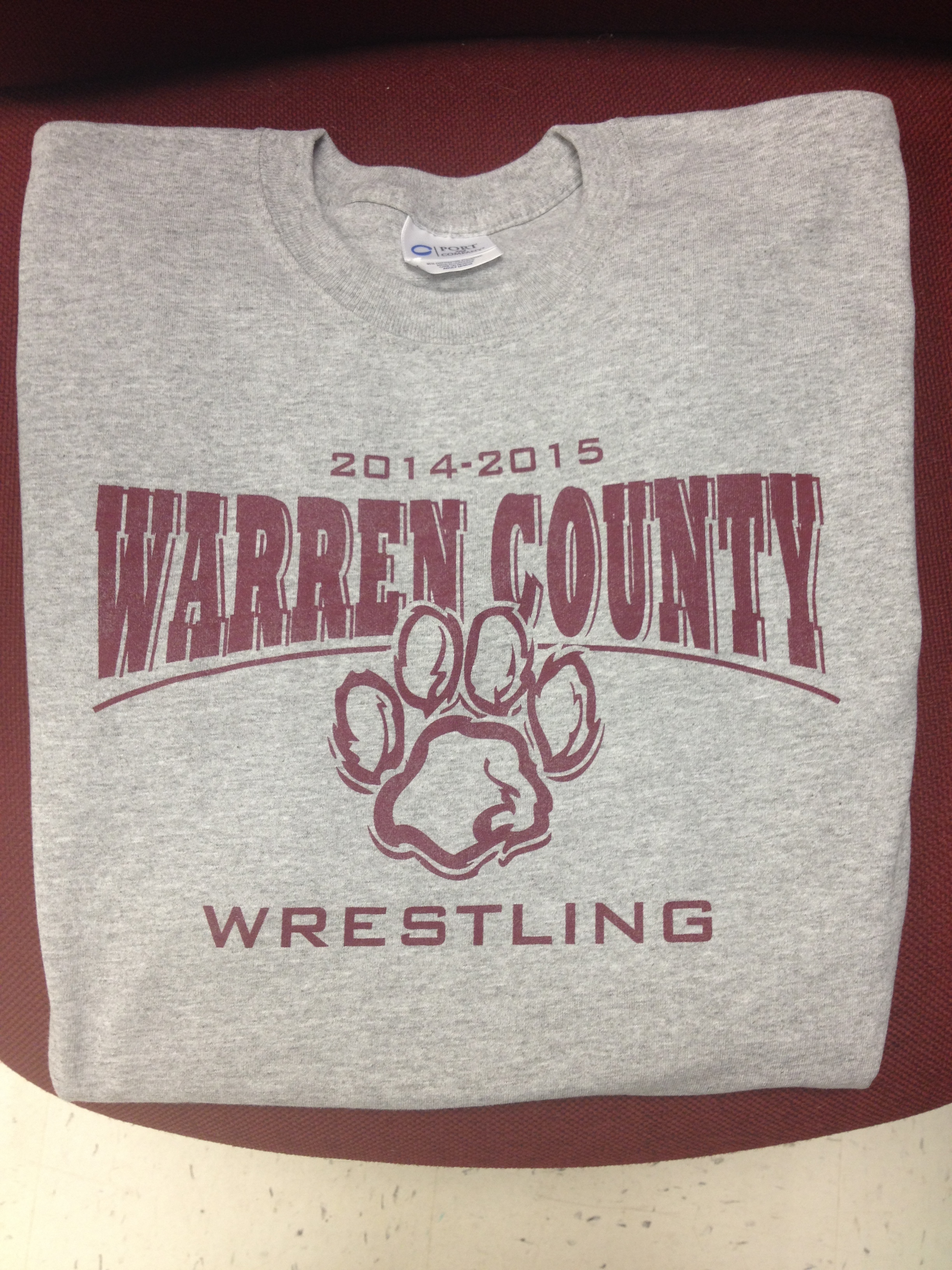 ---
News
Parent's Meeting and Wrestle off Information Now posted on the Varisty and JV links

Meet the Team Night/Wrestling Parent's Meeting will be held next Wednesday (Nov 19) at WCHS. All parents should plan to attend. WC Wrestling Varsity wrestle off will be held Nov 22 10am in the auxiliary gym. Parents and family are welcome to attend/watch. Full details on each event are now posted on the Varsity and JV links.
Middle School wins Home opener starts 2-0

The Middle School team hosted Johnson Williams this past Thursday for their home opener. The cats jumped to a big lead and never looked back as they down JW 84-28. With this win the cats jumped to a 2-0 start on the season. Their first match with Daniel Morgan on Tuesday - The cats came out victorious defeating Daniel Morgan 68-45. The Cats are back in action next week with a tri in Winchester.
2014/15 T-shirts now available!

This year's team t-shirts are now in. We will have them available at the Parent's Meeting, during wrestle offs or at our first home meet. Cost is $15 - get yours today!

2014/15 High School Season Underway (Grades 9-12) - Sign ups continue all week

The Varsity/JV season begins this coming Monday November 10th. You must have a current VHSL physical to participate. Practices run Monday through Friday at the WCHS wrestling room. Click on the varsity link for all the details. Also check out the schedule link for the 2014/15 Varsity and JV schedules - save the dates today!!
2014/15 Middle School Wrestling Underway - Sign ups Continue all November
This year's middle School wrestling is underway with a huge turnout. Practices are Monday thru Fridays and signups continue all November. Click on the Middle School link for all the details.
2014/15 Information Mat Cats (Grades K-8) now posted
This years sign up information for youth wrestling are posted on the mat cat link. It starts November 17th and has two levels (beginner and advanced). This includes start dates, times, and important details. All schedules are updated and posted on the schedule links. Youth Wrestling season is officially only a few weeks away!
Next Level Club comes to a close as the School season begins
The Next Level Fall club is closing for the season. Check out the next level website for all the great accomplishments of 2013/14 and details for next year!
Check out the Coach's Corner Link for some tips to start your season off
The Coaches Corner link has some great tips to get your mind and body ready for the upcoming season - check them out and start preparing today!
Wildcat Open - Big Success

The wildcat open - our home K-12 folk-style tournament was held this past weekend and was a big success. It was the largest turnout we have ever had and gave a great amount of mat time to all wrestlers. A thank you goes out to all the parents and family who worked tables, concession, or clean up. We couldn't do it without your help! The full results are on the Coach's Corner link - the full list of WC wrestlers is on our next level club site.
Zach Beckner crowned Sophomore All American

Congratulations to Zach Beckner who placed 5th in the NHSCA Nationals this weekend in VA Beach. Zach became Warren County's second All American behind Trey Kirkland. Congrats also goes toJacob Schneider and Terrace Thompson both who competed with Zach but came just short of placing. Great job wildcats!
Publish