Welcome to the Warren County Wildcats Wrestling online home.
During the season, this is the place to visit for up to the minute results, team rosters (grades K-12), and team schedules. Be sure to visit often for all the latest Wildcat information throughout the year. In addition, check out our famous Hall of Fame, Team History, and our ever-growing Team Photo Album.
Upcoming Events
July
- Next Level back underway for July
- Fargo US Nationals July 20-25
- WC Camp (rescheduled) - TBA
Picture of the Week
Good luck at Nationals Zach!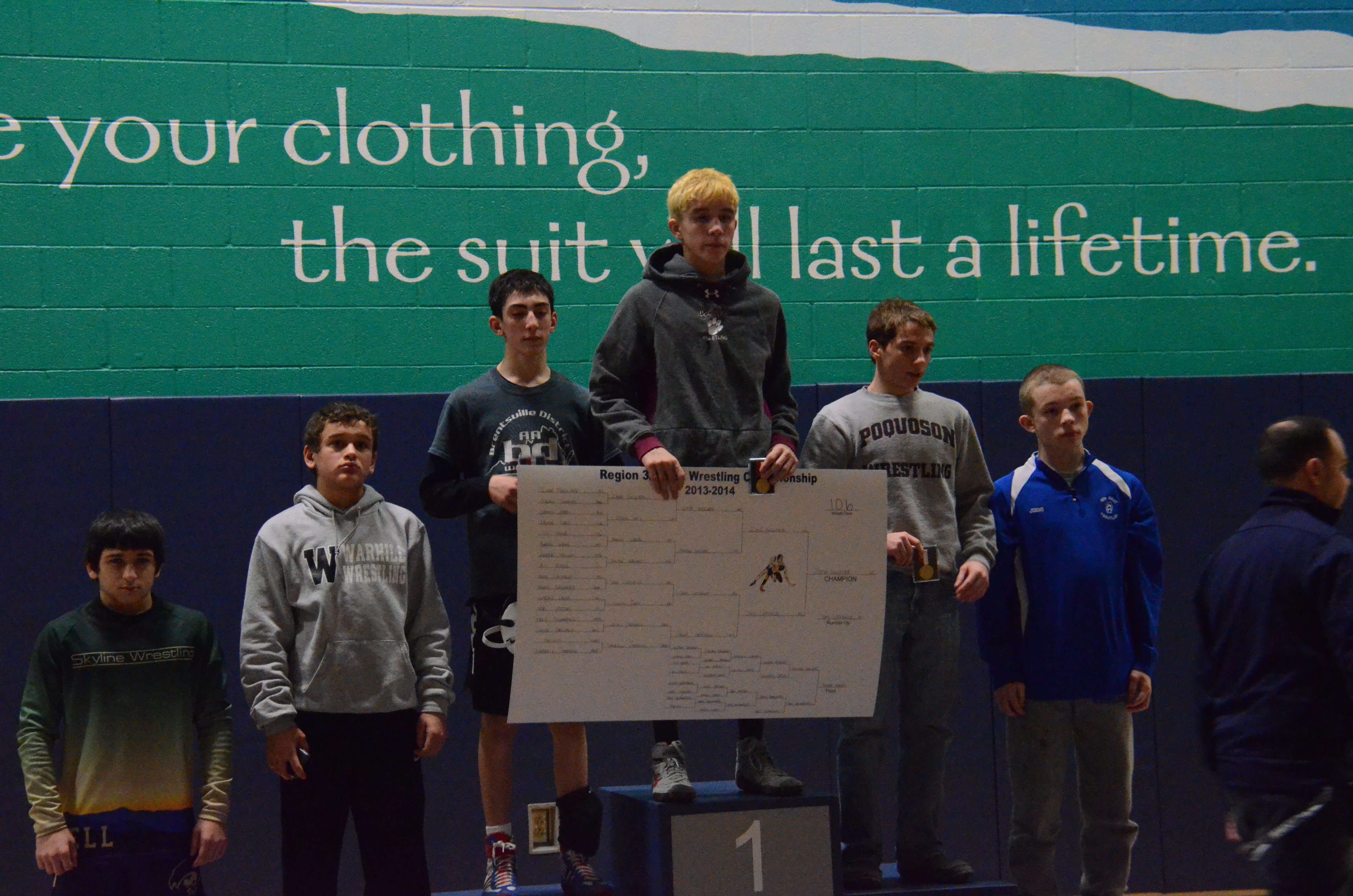 ---
News
2014 WC Camp postponed

Due to a scheduling error the 2014 WC camp has been postponed. We are going to try to make up the event in August. AN email and text message was sent out to everyone with the info. If you didn't receive the info please click on the contact link and let us know.
Good Luck to Zach Beckner at Nationals!

The entire WC Wrestling team, coaches, and family want to wish Zach Beckner good luck at US Nationals this week. Zach is representing VA in both Freestyle and Greco, and is the first wildcat in over a decade to attend the most prestigious off season tournament in then nation. Good luck Zach!
Flo wrestling will be posted videos online and streaming the event if you have their membership. We will be posted pictures, info ,and results on our facebook page.
Go cats!
Next Level Summer Hours Underway

The Next Level Summer Hours are underway. Check out the next level wrestling club link for all the times, dates, and summer wrestling opportunities.
Congrats to Zach Beckner and Coach Wadas

The WC athletic awards were held this past Wednesday and the wildcat wrestling team scored big with two awards. Zach Beckner was awarded performer of the year for unbelievable sophomore year of wrestling (44-1, District, Conference, Region Champ and State Runner Up) and Coach Wadas was awarded Coach of the year! Great job wildcats!
Wildcat Open - Big Success

The wildcat open - our home K-12 folk-style tournament was held this past weekend and was a big success. It was the largest turnout we have ever had and gave a great amount of mat time to all wrestlers. A thank you goes out to all the parents and family who worked tables, concession, or clean up. We couldn't do it without your help! The full results are on the Coach's Corner link - the full list of WC wrestlers is on our next level club site.
Congrats to Zach Beckner - 2014 VA Freestyle State Champ

Congratulations goes out to Zach Beckner who won the 2014 Cadet Freestyle VA State Championship. Zach went 4-0 on the day winning every match (event the finals) by tech fall. Zach will represent Warren County and VA as he travels to Fargo, North Dakota to compete in the US National this summer! Great job Zach!
Congrats to Terrace Thompson who will continue his wrestling career at ODU

Congratulations go out to Terrace Thompson who has officially committed to attend Old Dominion University next year, and continue his wrestling career as a ODU monarch. Terrace had a Hall of Fame career as a wildcat - he was a 2 time state place winner and 3 time district and region placer. Terrace is in the record books for
3rd in Warren County history for wins (132), tied for most wins in a season (46), all time leader in nearfalls (205) , career take downs (159), career pins (44), and team points.
Congratulations to Terrace and his family on such a great opportunity and good luck to his on wrestling at the next level.
Next Level Wrestling Club Underway - Tournament Season in Full Swing

The Next Level Wrestling Club is running full speed ahead this Spring with Club Practices and Strength and Conditioning Sessions each week. The Club also has a full slate of off season tournaments wrestlers can attend to gain experience and mat time. Stay up to date on all the club activities, results, and tournaments by clicking on our next level club link (on sidebar). Lets get the cats on the mat!
1st Club Car Wash big Success

The first Club Car Wash was this past Sunday and it was packed with cars from start to finish. A big thanks goes out to all the wrestlers and parents who stood in the sun all day working. Also to the family, friends, and alumni who came out and donated to the program. Next Car Wash will be May 10th.
Zach Beckner crowned Sophomore All American

Congratulations to Zach Beckner who placed 5th in the NHSCA Nationals this weekend in VA Beach. Zach became Warren County's second All American behind Trey Kirkland. Congrats also goes toJacob Schneider and Terrace Thompson both who competed with Zach but came just short of placing. Great job wildcats!
Publish
Wrestling Banquet and End of Season info

The Wrestling banquet was held at Shenandoah Valley Country Club this past Tuesday and was a great success. Congratulation to all the award winners and the entire team on such a great season. Now that the season is over All equipment must be turned in ASAP. Also the off season info has been given out - if you did not receive this - please contact a coach. Warren County also has a donation box in the wrestling room to donate shoes, cloths, or any gear that isn't going to be used in the future. What a great season - go wildcats!
Wildcats Wrestling takes 7th in the state wrestling tournament, places 5 wrestlers and State Runner Up - Zach Beckner!

The Wildcats traveled to Salem to attend the 2014 State Wrestling Tournament. At the end of the 2 day tournament the Cats took 7th place placing all 8 team members. This was the teams 2nd best finish at the state tournament in wildcat history! Zach Beckner was a State finalist for the Wildcats and took 2nd place in this year's tournament. Tyler Barisciano, Terrace Thompson, and Jacob Schneider has fantastic weekends all taking 3rd place. Tyler Shanholtz and Tristan Ward ended awesome Tournament runs with a 6th place and a 7th place! Congratulations to all the wildcats on an amazing tournament and season. Go Wildcats
Beckner Crowned 2014 Region Champ - Wildcats send 6 wrestlers to the state Tournament.

The Wildcats had one of the best tournaments in years crowning 1 region champ and sending 6 wrestlers to states (tied for the most). Zach Beckner was crowned region champ, while Tyler Barisciano and Jacob Schneider were region runners up. Terrace Thompson took 3rd place and Tyler Shanholtz and Tristan Ward posted huge upsets to place 4th and advance. Levi Lambert also had a great tournament placing 6th and Josh Newman, Brandon Ketola, Zach Smith, and Jacob Grimsley were regional qualifiers. All team members scored points for the team and we finished 5th in the region. The Cats depart this Thursday for the state tournament in Salem, Va Good luck and go Wildcats!
Cats Crown 4 Conference 28 Champions, send to 10 to the Region tournament
The conference 28 tournament was held this past Saturday at Skyline High School and the wildcats had a huge night crowning four champions (Beckner, Barisciano, Thompson, and Schneider) and sent ten wrestlers to the 3A East Region Tournament at John Champe next Friday/Saturday. The team finished 2nd in the conference and had a great start to its post season run. Full results on the roster link - Great job wildcat!
Big Weekend for Wrestling as Varsity Crowns 3 District Champs and JV team become 2014 Super Regional Champions!
The Cats had an unbelievable weekend of wrestling! The Varsity cats crowned 3 district champs (Beckner, Barisciano, and Thompson), 2 runners up (Ward and Schneider), and 5 placewinners. The cats fell 1.5 points short of the team title to Strasburg but it was an exciting race down to the final match!
The JV Cats traveled to Skyline for the JV Super Regionals. The cats Came home with their first ever title topping 28 other JV teams. The Cats had one individual champ (Brady Bryant) but put 5 in the finals and had 11 total place-winners! Full results for both events are on the roster link. Great job to both teams and Go Wildcats!
Varsity, brings home 4th trophy of the season
The Varsity had another great weekend with a 2nd place finish in the Handley Judges Invitational (2nd out of 17 teams). The Cats Had 14 place-winners, 2 champs, and a runner up. Zach Beckner and Tyler Barisciano became Judges Invitational champs while Jacob Schneider had a great performance as Runner Up. The entire team had a great weekend in a tough field of teams! Full list of place-winners is on the roster link. Go cats!
Varsity, JV, and Middle School all bring out big wins!
The Varsity match at Rappahannock was a big win for the cats - although out 2 starters the cats won 52-16 and kept undefeated in the district. The JV was back in action at the James Wood Round Robin. Athough there was no team score the cats got valuable mat time racking up over 20 wins and 6 undefeated wrestlers! The Middle School completed their season with a sweep at the Rappahannock Quad defeating William Monroe, Rappahannock, and Harper's Ferry. What a season for the Middle School!.. This Saturday the varsity is at the Handley Duals and the JV is the the Handley JV Round Robin Friday.
Each individual link will be updated will all itineraries and directions this weekend. Go Cats!
Middle School is crowned NVJL Champions!
The middle school wrestling team traveled to Johnson Williams this past Tuesday and won the 2013/14 NVJL championships. Full list on place-winners are posted on the Middle School link. Congratulations Wildcats!
Varsity goes 4-1 at Conference Duals
The Wildcats had another great weekend going 4-1 at the first ever Conference 28 Duals. WC defeated William Monroe, John Champe, Central and Loudoun Valley before falling to skyline in the last match of the day. The Cats had 4 wrestlers go undefeated on the day to make it another great event for the cats. Varsity continues their district run this Wed at Rappahannock Quad.
Varsity sweeps district quad
The Varsity traveled to Madison County for a mid week district quad last night and came out with a sweep. The Cats defeated George Mason 66-9, Fluvanna (non-district) 61-15, and then downed Madison to finish the night 67-12. On a side note, the victories push Coach Wadas to 183 - passing legendary Coach Rodger Seemiller (182) for all time coaching wins.
Way to go Wildcats!
Congrats to Mat Cats on their Home event this weekend!

The Congratulations to all the mat cat youth wrestlers who had their first home mason dixon match of the year this past Sunday. Another great weekend of mat time for the little cats. The mat cats have an away tournament this Sunday! Check out the mat cat link for all the detailst. Great job matcats!
WC Invitational big Success - Wildcats take 3rd trophy, finish runners up

The Wildcats home tournament was held this past Saturday and although condensed because of the weather - it was a big success. The Wildcats took the first 3 titles with Zach Beckner, Tyler Barisciano, and Terrace Thompson became 2014 WC Invitational Champs. There wasn't 1 point scored on any of the wildcat finalists! The cats followed the champs with 9 place-winners helping the cats secure the 2nd place spot out of the 12 varsity teams. Another great team performance by the wildcats - great job boys!
Cats come home with 2 champs, 8 placewinners, a trophy from Kiwanis!

The Varsity team traveled to Pennsylvania for the annual Kiwanis Tournament and made history with their highest finish ever. The wildcats finished 4th out of 27 team and placed 8 at the event, crowning two individual champs. Zach Beckner and Terrace Thompson became 2013 Kiwanis champions while Tyler Barisciano became a 2013 runner up. Full list of place-winners is on the coach's corner link. The cats have been to the Kiwanis the past 8 years always finishing in the top 10 but never above 7th place. It was a big weekend for the team - Go Wildcats!!
Varsity Captures 2nd title - 1st Trophy of the year!
The Varsity Team captures their first trophy of the year defeating 5 teams in a row to capture the Stuarts Draft Holiday rumble title! The Cats defeated Fluvanna, RE Lee, Lord Botetourt, and Fort Defiance in their pool to advanced to the finals where they defeated Liberty to win the championship. Full results will be listed on the schedule link. Go Wildcats!
Varsity opens District Schedule with 2 wins, JV racks up wins in Round Robins

The Varsity team traveled to Manassas Park this past Wednesday to open up their District Schedule. The Cats defeated Clarke County 46 - 30 to open the night and followed with a win over Manassas Park 48-27. The JV Cats hit two round robins in Musselman and Broad Run early in the week and came out with a huge number of W's. Great Job Cats!
WC Duals - Varsity goes 5-0, JV racks up victories.
The Wildcats home opener this weekend started with a bang as the cats rattled off 5 victories in a row to win their first event of the year. The Cats downed John Champe, Broadway, William Monroe, Oakton, and Spotswood in a great day of wrestling. The JV opened up in a round robin and racked up over 30 wins and came up big even though there was no team score. The JV continues their season this Tuesday at the Handley Round Robin and the Varsity team goes on the road next Saturday to Manassas Park. Great job Wildca